Published on Thursday, February 28, 2013 by Kathy McCabe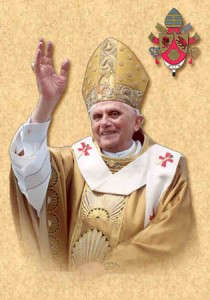 As of 8 p.m. local time, the Vatican's Swiss Guards are a protection force without a Pope to protect. Pope Benedict officially retired from the Papacy today as the Vatican is slated to announce Friday the date for the conclave to elect his successor.
According to  the
Associated Press reporter
who was at the Pope's summer/weekend residence, "As bells tolled, the Swiss Guards standing at attention in Castel Gandolfo shut the doors of the palazzo shortly after 2 p.m. EST, symbolically closing out a papacy whose legacy will be most marked by the way it ended — a resignation instead of a death.""In a changing of the guard, the Swiss Guards in their yellow-and-blue striped uniforms handed over responsibility of protecting the 85-year-old Benedict to Vatican police as some of the faithful outside shouted 'Viva il papa!' — Long live the pope!"
Benedict will spend some time at the Apostolic Palace at Castel Gandolfo, in the hills outside Rome before retiring to a monastery in Vatican City. He said of his transition, "I will simply be a pilgrim who is starting the last phase of his pilgrimage on this earth."
Ready to travel to Italy? Perillo Tours has been leading group trips throughout Italy since 1945 and ItalyVacations.com can custom design an independent itinerary for your dream Italy vacation!
Taking your first trip to Italy soon? Learn everything you need to know when you get your FREE copy of The First Timer's Guide to Italy by ItalyTravel.com contributor Kathy McCabe