Published on Wednesday, March 13, 2013 by Kathy McCabe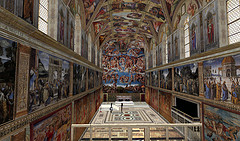 All eyes are on Vatican City in Rome — and specifically the chimney leading from the Sistine Chapel — to see if a new Pope has been elected. 115 cardinals are locked away in the chapel, voting on the leader of over a billion Catholics. Here are some fun facts about the Conclave:
In the 13th century, Pope Gregory put the rule into effect that cardinals must be sequestered to elect a Pope. This is because it took three years to elect him.
The word "conclave" originates from the Latin phrase cum clave, meaning "without key."  The cardinals are locked in.
The cardinals are allowed no contact with the outside world – under threat of excommunication.
The cardinals are staying in a 130-room guest house  Domus Sanctae Marthae (St Martha's House) on the grounds of Vatican City.
The cardinals hold one vote on the first day and then two each morning and afternoon until a candidate wins a two-thirds majority. Here is their schedule.
When the cardinals write the name of their candidate for Pope, they are asked to disquise their handwriting. They are then asked to fold the ballot into thirds.
Three cardinals count the photos and then sew up the counted ballots and burn them. Black smoke, of course, means no Pope has been chosen by white means the Pope has been chosen.
Ready to travel to Italy? Perillo Tours has been leading group trips throughout Italy since 1945 and ItalyVacations.com can custom design an independent itinerary for your dream Italy vacation!
Taking your first trip to Italy soon? Learn everything you need to know when you get your FREE copy of The First Timer's Guide to Italy by ItalyTravel.com contributor Kathy McCabe
Photo by chwye, flickr.com