Published on Friday, March 15, 2013 by Steve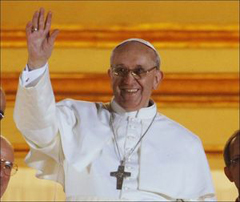 All eyes were on Rome and Vatican City this week as Pope Francis became the 266th pope in the history of the Catholic Church. There has never been a better time to visit the Eternal City and Italy and  ItalyVacations.com has put together  an amazing package for you to meet the new pope!
Meet Pope Francis at a Papal Audience at the Vatican – a once-in-a-lifetime experience that's part of our new 5-night Rome package. Here's what is included:
+ 5 nights in a 3-star Rome hotel
+ airport transfers
+ tickets to a Papal Audience with guide
+ Vatican Museums Tour
+ transportation to Vatican City from your hotel
+ Assisi day trip with transportation and lunch
+ daily breakfast at hotel
Starts at $879 per person.
Learn more here