Published on Tuesday, March 19, 2013 by Steve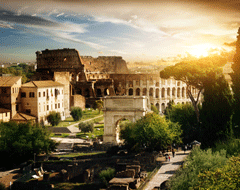 I'm thrilled to announce a fabulous new travel package called Roman Adventure! With the Eternal City as your home base, see the highlights of Ancient Rome, the Colosseum, and the Vatican, plus venture out to Pompeii, Naples and Tuscany to make the most of your week in Rome.
Here's what is included:
+ 6 nights in a 4-star Rome hotel
+ airport transfers
+ Colosseum & Ancient Rome Guided Tour
+ Vatican Museum Guided Tour
+ Pompeii & Vesuvius Guided Excursion
+ Tuscany Guided Excursion
+ daily breakfast at hotel
Starts at $1625 per person.
Book by April 15th and receive $100 off per person, free dinner and a free backpack!
Learn more about our Roman Adventure