Published on Saturday, March 9, 2013 by Kathy McCabe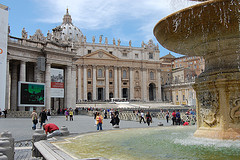 We've started a new feature on ItalyTravel.com, it is called The Italy Mix and it is a post about the most interesting Italy and Italy travel, news and human interest stories around the Web each week.  Here are our top picks for this week:
Papal Conclave to Start Tuesday: Cardinals have gathered at Vatican City to elect a new Pope. (Miami Herald)
Is An American Pope A Possibility?: One Vatican-watcher says that an American cardinal or two could be in the running for Pope. (CBS News)
Silvio Berlusconi Hospitalized: The former Italian premier still must attend his trial for tax evasion. (AP)
Marriott Launches New Hotels in Italy: The hotel giant is opening a new chain called MOXY with the first one slated for Milan in 2014. (Travel Agent Central)
A Movie Lover's Guide to Tuscany: See where "Life Is Beautiful" and "Rome with A View" were filmed. (The Huffington Post)
Ready to travel to Italy? Perillo Tours has been leading group trips throughout Italy since 1945 and ItalyVacations.com can custom design an independent itinerary for your dream Italy vacation!
Taking your first trip to Italy soon? Learn everything you need to know when you get your FREE copy of The First Timer's Guide to Italy by ItalyTravel.com contributor Kathy McCabe
Photo by dslrtravel.com, flickr.com