Published on Tuesday, March 5, 2013 by Kathy McCabe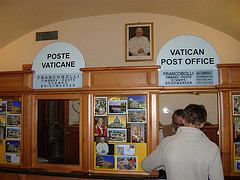 On Friday, the Vatican post office released stamps for the Sede Vacante or Vacant See period – the time when there is no Pope. Pope Benedict XVI stepped down on February 28th.  Because this period is so short, these stamps are quite the collectors item. Perillo Tours President Steve Perillo has his own collection of Sede Vacante commemorative stamps. The Vatican started issuing such stamps in 1939.
According to France24, "The special postmark for the stamps reads simply Sede Vacante MMXIII.The stamps have a face value of 70 euro cents (about $0.91) for Italy, 85 cents for Europe and the Mediterranean, two euros for Africa, Asia and the United States and 2.50 euros for Australia."
The Vatican also announced today that the Sistine Chapel (site of the Conclave of Cardinals) is now closed until furthern notice and 110 of the 115 cardinals needed for the conclave are now in Rome.
Ready to travel to Italy? Perillo Tours has been leading group trips throughout Italy since 1945 and ItalyVacations.com can custom design an independent itinerary for your dream Italy vacation!
Taking your first trip to Italy soon? Learn everything you need to know when you get your FREE copy of The First Timer's Guide to Italy by ItalyTravel.com contributor Kathy McCabe
 Photo by xiquinhosilva, flickr.com