Published on Friday, March 22, 2013 by Steve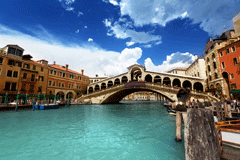 If you're taking your first trip to Italy and you're looking for an independent itinerary, I have just the one for you. I'm thrilled to announce a fabulous new travel package called Three Crowns of Italy.  Experience Italy's 3 major cities in style, with 4-star, centrally located hotels and all of your land transportation!
Here's what's included:
3 nights in a 4-star Rome hotel
3 nights in a 4-star Florence hotel
2 nights in a 4-star Venice hotel
Round-trip airport transfers
All transfers to/from train station in each city
First-class train tickets between cities
Colosseum & Ancient Rome Guided Tour
Best of Florence Tour
Venice Guided City Tour
Daily breakfast at hotel
Book this Special Offer by April 15th and receive:
$100 off per person
Free Dinner with wine at the Rose Garden's "Il Roseto Restaurant"
Free Deluxe Backpack
Learn more about our Three Crowns of Italy.