Published on Tuesday, April 16, 2013 by Kathy McCabe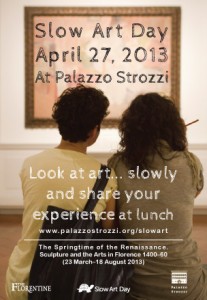 An event taking place in over 100 locations throughout the world, Slow Art Day is a chance for art fans to take in beautiful works s-l-o-w-l-y. This year Slow Art Day is April 27.  If you're in Florence, a great place to experience the day is at Palazzo Strozzi.
The Florentine reports visitors will have ample time to appreciate works from the current exhibition  The Springtime of the Renaissance. Sculpture and the Arts in Florence 1400–60. According to the site, "Slow Art Day consists of two moments: the individual observation of the works of art, and the group sharing of the experience. Around 11 am, the observation portion of Slow Art Day will begin with visitors looking at several works of art, slowly, for 10-15 minutes each. Visitors will be given to specially-designed looking kit to enhance their visual explorations. The second portion, around 1:30 pm in the first floor Education studio, will open conversation between visitors and encourage everyone to exchange opinions and ideas."
For more information, visit www.palazzostrozzi.org/slowart
Ready to travel to Italy? Perillo Tours has been leading group trips throughout Italy since 1945 and ItalyVacations.com can custom design an independent itinerary for your dream Italy vacation!
Taking your first trip to Italy soon? Learn everything you need to know when you get your FREE copy of The First Timer's Guide to Italy by ItalyTravel.com contributor Kathy McCabe