Published on Wednesday, April 17, 2013 by Kathy McCabe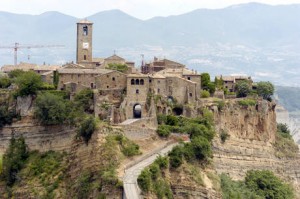 It may be a sign of the times in cash-strapped and decaying Italy: an Italian town will now be charging visitors admission. The mayor of Civita di Bagnoregio, some 90 miles north of Rome, says his town is in desperate need of repair and thus will require visitors to purchase a three-euro ticket to enter.
According to Italian news agency ANSA, "The ground has been slowly crumbling beneath Civita, some 145 km north of Rome, for hundreds of years. Some access roads to the town, which has some 15 full-year residents (the number jumps to over 100 in summer), are threatened by the continuing erosion of the ground underneath the town itself, largely made up of friable, volcanic tuff."
The entire country of Italy is in a severe financial crisis, making financing for municipal projects difficult.
Ready to travel to Italy? Perillo Tours has been leading group trips throughout Italy since 1945 and ItalyVacations.com can custom design an independent itinerary for your dream Italy vacation!
Taking your first trip to Italy soon? Learn everything you need to know when you get your FREE copy of The First Timer's Guide to Italy by ItalyTravel.com contributor Kathy McCabe