Published on Tuesday, April 2, 2013 by Kathy McCabe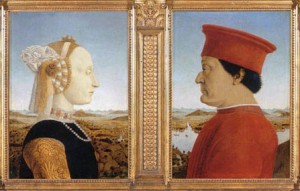 Sixty percent of the world's art treasures can be found in Italy. That's a staggering amount of painting, frescoes, sculptures and artifacts. Its no wonder that when visiting Italy, travelers want to try to see it all, even though that is impossible.  Plus there's the risk of Stendhal syndrome. What is that you ask?
According to Wikipedia, "Stendhal syndrome, Stendhal's syndrome, hyperkulturemia, or Florence syndrome is a psychosomatic disorder that causes rapid heartbeat, dizziness, fainting, confusion and even hallucinations  when an individual is exposed to art, usually when the art is particularly beautiful or a large amount of art is in a single place."
The syndrome was named for 19th-century French artist Stendhal who was overcome with symptoms while viewing art in Florence in 1817. Similar incidents throughout the years were reported at Florence's Uffizi Museum. Italian psychiatrist Graziella Magherini documented more than 100 cases of Stendhal syndrome and officially named it in 1979.
Ready to travel to Italy? Perillo Tours has been leading group trips throughout Italy since 1945 and ItalyVacations.com can custom design an independent itinerary for your dream Italy vacation!
Taking your first trip to Italy soon? Learn everything you need to know when you get your FREE copy of The First Timer's Guide to Italy by ItalyTravel.com contributor Kathy McCabe
Photo: Portraits of the Dukes of Urbino by Piero della Francesca