Published on Tuesday, May 14, 2013 by Steve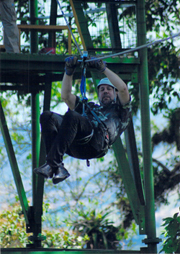 I just returned from an inspiring and adventurous trip-of-a-lifetime in Costa Rica! Yup, that's me ziplining – and I'm even terrified of heights! I am so enthralled with this stunning country that I want you to have the same exciting adventure that I did…and you can with Perillo's New Costa Rica – A 9-Day Adventure!
SAVE $100 per person when you make a deposit by June 30th.
Perillo's Costa Rica is truly unique. You'll explore the famous highlights while staying at exclusive off-the-beaten-path resort hotels. I can't wait for you to experience some of the things I did:
See exotic wildlife from your private boat…
Ascend the rainforest in a cable car…
Dip into the thermal baths at the feet of the mighty Arenal…
Take a walk in the Cloud Forest..
Relax at a serene beach resort in the stunning Nicoya Peninsula, famed for the longevity of its people…
Take a Spanish lesson…
Enjoy a lecture on bio-diversity and sustainability with university researchers…
Learn to make the traditional Tamal, served on special occasions like your Perillo Tour!
Discover Costa Rica Perillo-Style with affordable rates starting at $1890 per person, based on double occupancy.
Check out the online brochure for all of the details!
Plus we're holding a free webinar on Wednesday, May 22 at 7 p.m. to tell you more about this exciting new tour. Register here to attend.
Our Costa Rica Specialists will guide you through booking your life-changing adventure! Call them now at (800) 431-1515. Plus save $100 per person when you pay your deposit by June 30th.