Published on Friday, May 10, 2013 by Kathy McCabe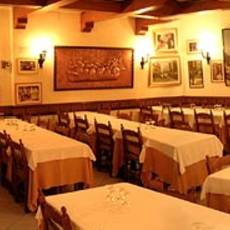 If you're traveling to Rome and looking for an authentic dining experience, look no further than Orso 80. You can make a meal out of the antipasti alone at this casual Roman eatery near Piazza Navona. Or another way to put it is don't go to Orso 80 and not partake of the scrumptious appetizers. Yes, they are that good! Tell the waiter to bring out a selection of the day's offerings or choose from, fried zucchini, fresh mozzarella, prosciutto, beans in tomato sauce, eggplant and rice balls. The antipasti are served family-style is one of the best buys in Rome.
Hold off on ordering primi or secondi before assessing how you feel after the antipasti. The friendly and efficient waiters might even make this recommendation while taking your order. If you are brave enough to continue on, you will find the main dishes as tasty and affordable as their precursors. If there's room for dessert, make an authentic choice and try the Roman ricotta cake.
Orso 80 generally attracts crowds, they seem to add rather than take away from such a convivial Roman dining experience.
Via dell'Orso, 33
(39) 06 6864904
Closed Monday. Open Tuesday through Sunday, 1:00 to 3:30 p.m. and 7 to 11:30 p.m.
Closed August and December 24 through 26.
Reservations recommended.
Ready to travel to Italy? Perillo Tours has been leading group trips throughout Italy since 1945 and ItalyVacations.com can custom design an independent itinerary for your dream Italy vacation!
Taking your first trip to Italy soon? Learn everything you need to know when you get your FREE copy of The First Timer's Guide to Italy by ItalyTravel.com contributor Kathy McCabe