Published on Wednesday, July 24, 2013 by Kathy McCabe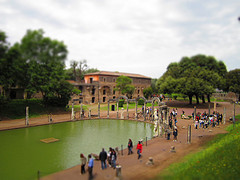 A visit to Hadrian's Villa in the town of Tivoli, 18 miles from Rome, makes for a great day trip from the Eternal City.  Roman Emperor Hadrian's retreat was built during the second and third decades of the 2nd century AD. The "villa" is actually a complex of more than 30 buildings and a variety of gardens.  Now five more buildings, surrounded by large statues, have been unearthed, reports Wanted in Rome.
"In addition to the buildings, researchers discovered hundreds of marble fragments that comprise a colossal statue, possibly a representation of Hadrian's wife, Empress Vibia Sabina," reports Wanted in Rome.
Ready to travel to Italy? Perillo Tours has been leading group trips throughout Italy since 1945 and ItalyVacations.com can custom design an independent itinerary for your dream Italy vacation!
Taking your first trip to Italy soon? Learn everything you need to know when you get your FREE copy of The First Timer's Guide to Italy by ItalyTravel.com contributor Kathy McCabe