Published on Sunday, July 14, 2013 by Kathy McCabe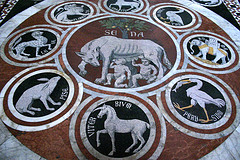 The ornate marble floor of Siena's Duomo is one of its great treasures. Yet it is rarely uncovered in all its glory for visitors to see. Following the success of last summer's display (350,000 visitors saw it), the flooring of Siena's cathedral will be on view again this summer, for two months, starting August 18th. A must-see if you're visiting Tuscany.
According to Italian news agency ANSA, the floor took 500 years to complete, "Those that participated in its creation included well-known Sienese art masters Sassetta, Domenico di Bartolo, Matteo di Giovanni and Domenico Beccafumi, as well as the famed painter Pinturicchio from the nearby region of Umbria."
"For the special summer openings visitors are permitted to walk along a well-defined route, taking them around the church to admire the hexagon shapes under the cupola, the mosaics close to the altar and many other characteristics that the floor boasts underneath the stunning Domenico Beccafumi frescoes that decorate the cathedral."
When visiting Siena's cathedral, don't miss the Duomo's sky section, which is also specially opened to visitors this summer.
Photo by Alaskan Dude, flickr.com