Published on Tuesday, July 23, 2013 by Kathy McCabe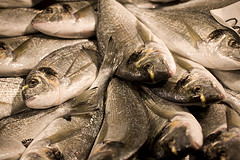 A number of dead fish have been found floating in the lagoons of Venice in recent days. While officials have been quick to scoop them up, so as not to ruin the tourist experience, residents and environmentalists alike are wondering what is causing the deaths of these fish?
According to Gazzetta del Sud, "(Experts) want to clarify whether a lack of oxygen, possibly caused by pollution, has killed fish now being cleaned out of its canals. Scientists have suggested the fish are dying in parts of the lagoon where oxygen levels are particularly low, spawning large amounts of algae."
Ready to travel to Italy? Perillo Tours has been leading group trips throughout Italy since 1945 and ItalyVacations.com can custom design an independent itinerary for your dream Italy vacation!
Taking your first trip to Italy soon? Learn everything you need to know when you get your FREE copy of The First Timer's Guide to Italy by ItalyTravel.com contributor Kathy McCabe
Photo by David Sifry, flickr.com