Published on Wednesday, July 31, 2013 by Kathy McCabe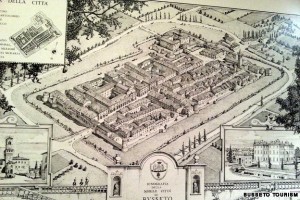 2013 marks the 200th anniversary of the birth of Giuseppe Fortunino Francesco Verdi, one of the world's greatest opera composers. Many know, of course, that the composer was Italian (or born in what is now considered Italy) but may know anything about his early life.
According to Wikipedia, "Verdi was born the son of Carlo Giuseppe Verdi and Luigia Uttini in Le Roncole, a village near Busseto, then in the Deparetement Taro,  which was a part of the First French Empire  after the annexation of the Duchy of Parma and Piacenza."
But he would spend his formative years in Busseto, three miles from his birthplace, supposedly because there was a piano in the town that a benefactor allowed the poor boy to play. Travel journalist Adrian Moubrey visits Busseto to see what he can learn about the place reveals about the composer
"Casa Barezzi is where the young Verdi came to play music. Today his piano overlooks Piazza Verdi. It was here that the lanky, dark-haired 17-year-old gave his first public performance, in 1830.
Antonio Barezzi, a wealthy merchant, not only was Verdi's first patron but also soon became his father-in-law when his daughter fell in love with the young musician.
Today just the main salon of Casa Barezzi (Via Roma 119; ‪+39 0524 931 117) has been restored by the "Amici di Verdi." I walked up steps to the first floor to pay the €2 entry fee.
The salon is lofty and spacious for such a small town. Had the adolescent Verdi ever seen anything as grand?
The adjoining rooms are taken up with display cases full of drawings, paintings and photographs of Verdi. There's a fascinating display of portraits of nearly every singer who played a major operatic Verdi role.
Another section commemorates conductors who have performed at Busseto's Teatro Verdi (‪Piazza Giuseppe Verdi 10; ‪+39 0524 92487) with the batons they've donated. Placido Domingo has pride of place."
Ready to travel to Italy? Perillo Tours has been leading group trips throughout Italy since 1945 and ItalyVacations.com can custom design an independent itinerary for your dream Italy vacation!
Taking your first trip to Italy soon? Learn everything you need to know when you get your FREE copy of The First Timer's Guide to Italy by ItalyTravel.com contributor Kathy McCabe