Published on Friday, August 9, 2013 by Kathy McCabe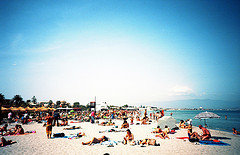 I've been talking to people who are deciding at the last minute to visit Italy this summer. For a number of reasons (like the school schedule), their schedules only allow them to visit Italy in August. Many of them have heard horror stories about how the whole country goes on vacation, there's no one left to cater to the visitors and it is too hot. Don't worry, August is still a great time to visit Italy.
The average Italian citizen gets 42 days of vacation per year. It is true that most Italians take at least a week or two off each August, and many are on vacation for the entire month. Businesses shut their doors for all or part of this vacation period. In fact, the productivity of the entire country takes a dive during the eighth month of the year. But Italy is very much an economy dependent on tourism and there are plenty of shops and restaurants open in all of the major cities. The major sites keep regular hours in August as well.
In fact, one of my most enjoyable visits to Rome was during the month of August.  The streets were empty (half of the city's population leaves town each August). It is the only time I was brave enough to drive in the Eternal City since there were fewer cars.  All of the major sites were open and enough shops and restaurants to have plenty of choices.  Because Rome is a major international capital, it must keep chugging along, even in August, but you can still enjoy it at a much slower pace.
I would be much more cautious in advising a beach vacation say in Sicily or Sardinia during the month of August as generally hotel rooms are at their most expensive (if you can get a reservation – some book up a year in advance) and the beaches are crowded. This can be the ideal time to visit Italy's inland hill towns, especially in the south. Southern Italians who left their villages for work in the north or even to move to the United States often return home in August. The streets come alive with summer festivals and the evening passeggiata is even more lively, and the weather in the hills is lovely.
And in terms of hot, well, for many years I lived in Washington, DC and I can assure you that the summer heat and humidity were far more brutal during a DC summer than during August in Italy. It all depends on where you are coming from…
By Kathy McCabe 
Taking your first trip to Italy? Learn everything you need to know when you get your FREE copy of The First Timer's Guide to Italy by ItalyTravel.com contributor Kathy McCabe.
Ready to plan your Italy vacation? Perillo Tours has been leading group trips throughout Italy since 1945 and ItalyVacations.com can custom design an independent itinerary for your dream Italy vacation!
Photo by mr-numb, flickr.com