Published on Sunday, August 18, 2013 by Kathy McCabe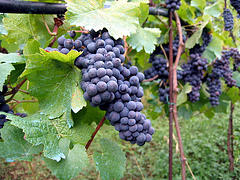 As the grape harvest begins  in southern Italy, the Association of Italian Enologists predicts that 2013 may well be an excellent year for the production of both red and white local wines if the current climatic conditions continue. ""It's going well, this climatic situation cannot but be favorable. We need to use a conditional tense, obviously, but if it carries on like this, I am optimistic and it could be an excellent year both for whites and for reds," Riccardo Cotarella told Italian news agency ANSA.
Vintners have begun picking Chardonnay and Pinot varietals in the south of the country. Other grapes in the south will be picked in a week or 10 days with northern Italy picking grapes in the early fall.
Ready to travel to Italy? Perillo Tours has been leading group trips throughout Italy since 1945 and ItalyVacations.com can custom design an independent itinerary for your dream Italy vacation!
Taking your first trip to Italy soon? Learn everything you need to know when you get your FREE copy of The First Timer's Guide to Italy by ItalyTravel.com contributor Kathy McCabe
Photo by picdrops, flickr.com