Published on Wednesday, August 21, 2013 by Kathy McCabe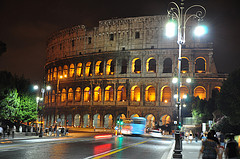 The newly elected mayor of Rome Ignazio Marino wants to close down the Via dei Fori Imperiali which runs next to the Colosseum  in a bid to make ancient Rome more pedestrian friendly, hoping to double the current number of visitors to the ancient sites to 20 million.  On August 3rd, Marino began barring private cars from the southern end of the road and tasking with enforcing a speed limit of about 20 mph for buses and taxis still using the road.
According to The Los Angeles Times, "The car ban provoked furious protests from shopkeepers around the forums, who said their business would dry up, while 100,000 supporters of the clampdown joined an all-night street party to welcome the change."
Marino plans to remove the entire street, Via dei Fiori Imperiali, which runs from the Colosseum to Piazza Venezia and was built by Italian dictator Benito Mussolini as part of an effort to showcase the grandeur of the Roman Empire.
Ready to travel to Italy? Perillo Tours has been leading group trips throughout Italy since 1945 and ItalyVacations.com can custom design an independent itinerary for your dream Italy vacation!
Taking your first trip to Italy soon? Learn everything you need to know when you get your FREE copy of The First Timer's Guide to Italy by ItalyTravel.com contributor Kathy McCabe