Published on Friday, August 23, 2013 by Steve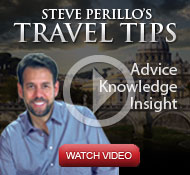 I'm Steve Perillo of Perillo Tours. I have a video series called Steve's Travel Tips to share all the insider Italy travel tips I have learned over a lifetime of travel to Italy.
In this video, I'd love to share my tips for renting a villa in Italy. This is a popular travel dream that many folks have and with a little advance planning you can make it a reality. After you watch the video, visit our new Italy villa rentals at Perillo Villas.