Published on Friday, August 9, 2013 by Steve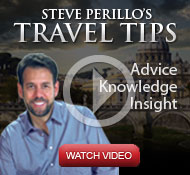 I'm Steve Perillo of Perillo Tours. I have a video series called Steve's Travel Tips to share all the insider Italy travel tips I have learned over a lifetime of travel to Italy.
In this video, I'd love to tell you about the 55th Annual Venice Biennale, the world's largest exhibit of contemporary art. taking place in Venice now through the end of November 2013.  If you're planning to visit Venice this summer or fall, it is a must-see. Check out the video.