Published on Sunday, September 8, 2013 by Kathy McCabe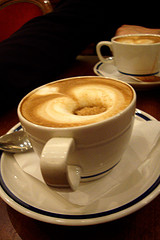 The
Academia Barilla
in
Parma
is the first international center dedicated to the development and promotion of Italian gastronomic culture. So the folks there know a thing or two about Italian food and how it should be prepared and eaten. The center recently published  
10 Italian cooking commandments
according to Academia Barilla. Here they are:
1. You shall not sip a cappuccino during a meal.
2. Risotto and pasta are not side dishes.
3. You shall not add oil to water (when cooking pasta).
4. Ketchup on pasta; please don't!
5. Spaghetti Bolognese, no way it is tagliatelle!
6. Chicken pasta – not in Italy.
7. "Caesar" salad is almost unknown in Italy.
8.  The red and white checkered tablecloth is only a stereotype.
9. Fettucine Alfredo is only popular overseas.
10. You shall respect tradition and what the Italian mama says!
Ready to travel to Italy? Perillo Tours has been leading group trips throughout Italy since 1945 and ItalyVacations.com can custom design an independent itinerary for your dream Italy vacation!
Taking your first trip to Italy soon? Learn everything you need to know when you get your FREE copy of The First Timer's Guide to Italy by ItalyTravel.com contributor Kathy McCabe