Published on Thursday, September 19, 2013 by Kathy McCabe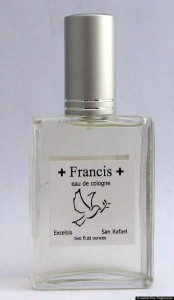 Clearly
Pope Francis
is a popular guy…But now he even has his own personal fragrance?
Excelsis Fine Fragrances
 has encapsulated the personality of Pope Francis in a new cologne called "Francis." CEO Frederick Hass told
the press
that he was trying to evoke Francis' "humble and down to earth" character with the cologne, which mainly consists of bergamot and sandalwood.
Hass has some history with papal fragrances; he founded his company after obtaining a recipe for Pope Pius IX's cologne, and has gone on to create other papal scents like "Benedictus" in 2006. The company's website describes its newest cologne with these words: "Created by Excelsis to celebrate the Petrine succession of Jorge Mario Bergoglio as Bishop of Rome, Pope Francis, Pontifex Maximus, 266th Pontiff of the Roman Catholic Church. Francis is an engaging, fresh fragrance with a citrusy top note of bergamot and a soft, woody drydown of sandalwood . Smooth and soothing, A grand aftershave."
From what we know of Pope Francis, he's likely embarrassed a bit about all the fuss over his smell.
Ready to travel to Italy? Perillo Tours has been leading group trips throughout Italy since 1945 and ItalyVacations.com can custom design an independent itinerary for your dream Italy vacation!
Taking your first trip to Italy soon? Learn everything you need to know when you get your FREE copy of The First Timer's Guide to Italy by ItalyTravel.com contributor Kathy McCabe