Published on Friday, November 1, 2013 by Kathy McCabe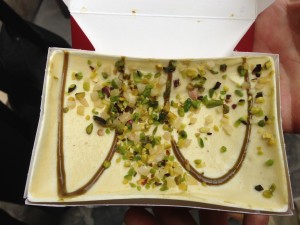 When in Rome, do as the Romans do and when it comes to the lauded dessert Tiramisu, they get theirs at Pompi. Pompi is known as "Il Regno Del Tiramisù"  or "the kingdom of Tiramisu." The original location for the kingdom is a coffee shop/bar, Bar Pompi,  in Piazza Roma di Rè. This is where Romans would flock to buy a Tiramisu for a dinner party or get a sweet fix. Some foreigners in the know would also show up.
But now, with a location within a block of the Spanish Steps, Pompi is more accessible to the masses. Little did we know what was waiting for us at the end of our informative and delicious Rome Tasteful Shopping Private Tour. We had been tasting coffee, fresh mozzarella, Roman pastries, truffles, Cacio e Pepe (pasta with cheese and pepper), the works,  but our guide Gaetano left the best for last with a stop at Pompi.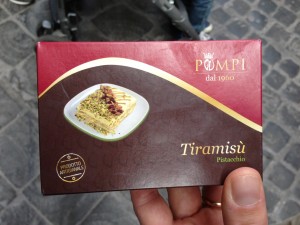 He had to fight through the masses – there were at least 15 people lined up (sort of, Italians hate to form lines) inside the new Pompi on Via della Croce (just 90-feet or so from the Spanish Steps) to grab their one-serving (but really plenty for two to share) Tiramisu to take and eat while they walked. There are a number of choices, including classic, pistachio and strawberry. Each serving is 4 euros and well, worth every penny. It is simply the best Tiramisu you can taste in all of Italy. It doesn't have that overwhelming liquor taste that many cheap imitations have.
Next time you're in Rome, try it yourself and join the Rome Tasteful Shopping Tour for more special spots to taste the best food in Rome!
Ready to travel to Italy? Perillo Tours has been leading group trips throughout Italy since 1945 and ItalyVacations.com can custom design an independent itinerary for your dream Italy vacation!
Taking your first trip to Italy soon? Learn everything you need to know when you get your FREE copy of The First Timer's Guide to Italy by ItalyTravel.com contributor Kathy McCabe