Published on Tuesday, November 5, 2013 by Kathy McCabe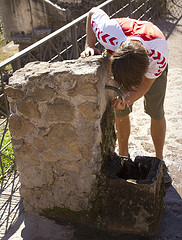 Italy is the largest consumer of bottled water. This is something you might notice when you are traveling in Italy; you're almost never offered tap water. This is a left over from many years ago when Italian tap water was considered unsafe. It is perfectly safe – all over the country, but is particularly pure and tasty in  Rome.
In the Eternal City, the best water you could drink comes from the many fountains around town. The plentiful water comes in from the mountains through the city's ancient aqueducts. There's no need to buy bottled water. Just get your own bottle and hit one of the fountains or better yet, drink it from the fountain itself like the young boy pictured. Do as the Romans do! As our Rome tour guide  told us, "Real Romans don't pay for water."
Ready to travel to Italy? Perillo Tours has been leading group trips throughout Italy since 1945 and ItalyVacations.com can custom design an independent itinerary for your dream Italy vacation!
Taking your first trip to Italy soon? Learn everything you need to know when you get your FREE copy of The First Timer's Guide to Italy by ItalyTravel.com contributor Kathy McCabe
Photo by weldonwk, flickr.com