Published on Sunday, December 22, 2013 by Steve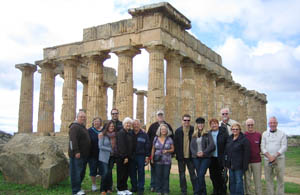 I know everyone is running around like crazy this week. Buying last-minute Christmas presents. (What should I get for Uncle Bob?) Planning holiday meals. (Is Cousin Laura still lactose intolerant?) Figuring out exactly when Santa will be leaving his presents. (What do you mean you want to stay up to see Santa come down the chimney?)
But there is life after the holiday season, and as we look ahead to 2014, it is time to begin planning your travel for next year. Is 2014 the year you're going to take the entire family to Italy? With everyone together for the holiday, NOW is the best time to start talking about a multi-generational vacation in Italy! I've put together a few tips in my latest Steve's Travel Tips Video. Click here to watch!
Here are a few ways we can help you take the family to Italy in 2014:
Take a Perillo Tour – We Take Care of Everything
If you have 15 or fewer family members, you can join any of our scheduled Italy tours. This is the easiest, most affordable way to see Italy with first-class hotels, great guides, everything taken care of for you. If you have more than 15 traveling, we can give you your very own departure date! Our Perillo Groups division can even help you customize a tour to your family's specific needs! Perillo Groups put together a one-of-a-kind Sicily trip for the family pictured above and can do the same for your family.
Rent a Villa for Your Family
There are more than 1,000 villa rental choices at Perillo Villas. These properties have been hand-selected for their beauty, function and location. We have many villas with swimming pools – a must for the little ones in the summer.
Customize Your Italy Travel Experience
Perillo's ItalyVacations.com can put together a custom itinerary for your small family group of seven or fewer people. Or you can use one of our packages for inspiration: Week in A Tuscan Castle includes accommodations and rental car for as little as $475.