Published on Thursday, January 16, 2014 by Kathy McCabe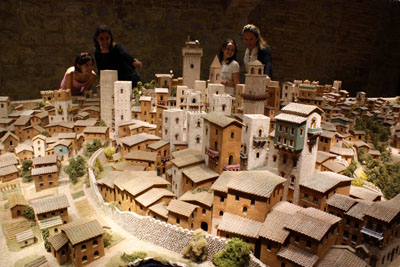 Visiting San Gimignano, the Tuscan town famous for its towers, can feel like a journey back in time. One of the town's museums – San Gimignano 1300 –  helps you have this time travel feeling with an historic, miniature version of what this UNESCO World Heritage Site was like in the year 1300.  While numerous towers in other Italian cities have ben destroyed by time and war, San Gimignano's 14 towers have remained intact.
San Gimignano 1300 is the realization of a vision created by brothers and master ceramic artists, Michelangelo and Raffaello Rubino, who wanted the museum to provide a historical, architectural, and social view of the medieval city. They joined architects and historians to craft a historically accurate recreation of San Gimignano out of clay; with the whole team putting in 20,000 combined hours of labor over a period of two years (2007 to 2009).
Of the museum's nine exhibits, the highlight is undoubtedly the "City of Beautiful Towers" exhibit, a miniature ceramic version of San Gimignano with over 800 handcrafted structures and 200 figurines. All structures and figurines are handmade on a scale of 1:100, using one ton of terracotta clay from the local Montelupo caves and natural pigments for coloring.
Beyond the miniature clay town, a hand-drawn timeline traces 2,400 years of the history of Tuscany, from the Etruscans in the 3rd century BC to the present. Other exhibits detail rural life outside the city's fortified walls, medieval street life, and the inside and purposes of a typical tower. The "Life in the Palace" exhibit is a ceramic reconstruction of a 14th century fresco by Memmo di Filippuccio, and there is also a ceramic rendering of what the Convent of St. Francis, which was demolished in the 16th century, is believed to have looked like.
San Gimignano 1300 is open daily from 8:00 a.m. to 8:00 p.m., with hours extended to 11:00 p.m. from June through August. Tickets are 3€ for adults. For more information, call (39) 0577 941078 or visit www.sangimignano1300.com
Ready to travel to Italy? Perillo Tours has been leading group trips throughout Italy since 1945 and ItalyVacations.com can custom design an independent itinerary for your dream Italy vacation!
Taking your first trip to Italy soon? Learn everything you need to know when you get your FREE copy of The First Timer's Guide to Italy by ItalyTravel.com contributor Kathy McCabe