Published on Sunday, January 26, 2014 by Kathy McCabe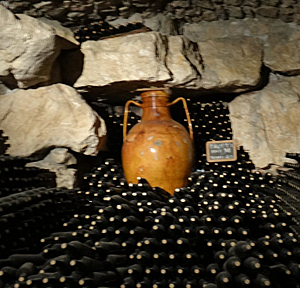 One of the great joys of taking a food and wine tour in Italy, even just for a day, is to get more familiar with the ingredients and attributes of Italy's bounty of tastes. If you're visiting the Amalfi Coast, Naples or anywhere in Campania, you can't miss the private day-long Southern Gourmet Tour where our guide extraordinaire Gaetano takes visitors to his corner of the region, Avellino, to meet and learn from his friends who produce wine, cheese, pasta, prosciutto, olive oil, torrone candy and more.
In the video, Gaetano introduces us to winemaker Antonio Caggiano of Cantine Antonio Caggiano (one of the places you can visit on this Amalfi Coast food tour) which produces Taurasi DOCG wines. Caggiano explains the fives senses of wine – look, smell, sound, touch and taste.