Published on Thursday, January 2, 2014 by Kathy McCabe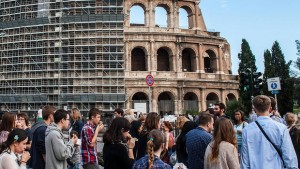 Scaffolding is now up around part's of Rome's iconic Colosseum, as part of a $33 million repair project funded by the private Italian leather goods company Tod's. Amid economic hardship and deteriorating ruins, private companies have stepped in to help save some of Italy's treasures.
Tod's chairman Diego della Valle told CBS News, "I am very proud to be Italian. This is the most important Italian monument and symbol." Tod's will not be allowed to advertise on the scaffolding but the fact that they have funded the work has brought the company plenty of press.
A coating of "black rust" – a mix of years of car exhaust, pollen, algae and fungus growths – has overtaken the Roman monument. Scaffolding will cover 150-foot sections of the Colosseum so that some four million annual visitors can enjoy the sections that are not being refurbished. The project is expected to take four years to complete.
Plan your trip to Rome with ItalyVacations.com
Ready to travel to Italy? Perillo Tours has been leading group trips throughout Italy since 1945 and ItalyVacations.com can custom design an independent itinerary for your dream Italy vacation!
Taking your first trip to Italy soon? Learn everything you need to know when you get your FREE copy of The First Timer's Guide to Italy by ItalyTravel.com contributor Kathy McCabe
Photo from CBSNews.com