Published on Sunday, January 12, 2014 by Steve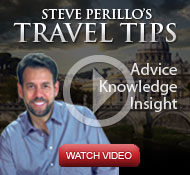 I'm Steve Perillo of Perillo Tours. I have a video series called Steve's Travel Tips to share all the insider Italy travel tips I have learned over a lifetime of travel to Italy.
Rome is the place to be these days! With the popularity of Pope Francis soaring, the number of visitors to the Italian capital increased 5% last year and visits to the Vatican increased a whopping 30%. Its what Italians are calling "the Pope Francis effect." Watch my video to learn more.