Published on Saturday, February 8, 2014 by Kathy McCabe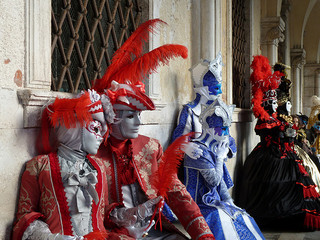 Are you looking for the most magical time of the year to visit Venice? Well look no further than Carnevale season! This is the time (February 22 to March 4, 2014) of year when a wintry Venice comes alive with magic and mystery all in an effort to have maximum fun before  Lent starts. Here are six ways to enjoy Carnevale in Venice:
1. Do as the Venetians do and wear an historical Venetian costume. Be sure to don a mask and parade along the alleys, bridges and squares.
2. Once you've got the costume, the ultimate Carnevale experience is to attend a masked ball. The Luna Hotel Baglioni hosts a 6-hour extravaganza complete with opera performances and even a DJ. Or enjoy Dinner Dansante "Le Menuet" at the Hotel Danieli where a dance master and a baroque quartet will involve people into traditional group dances such as minuets.
3. Whether you're going to a ball or not, don't miss the chance to learn Cotillion dancing, an essential part of any Carnevale costume ball. The Cotillion The "Cotillion" is a French dance dating back to early 18th century. The lady had a starring role in the "dance-game": it was her role to entice her desired partner so he would invite her to the dance itself. Little gifts were handed out at the end of the dance.
4. Take a Carnevale-themed photo tour of Venice. La Serenissisma is ideal to photograph year-round but with all of the folks parading around in colorful masks and costumes, now is a great time to get out the camera and venture into lesser-known Venice neighborhoods such as Castello and Cannaregio.
5. Curious about Venetian cocktails? Take a Carnevale Pub Crawl. At the first three bars, enjoy an "ombra" or a glass  of local wine, and at the
final bar you will have the chance to try the popular Venetian Spritz.
6. Learn the secrets of Venice's Carnevale with a very special walking tour. Follow in the steps of adventurer Giacomo Casanova's, back the Carnevale of the 18th century. A masked guide will immerse you in the history of Carnevale as well as the use of masks and how they are made.  The tour ends with a hot cappuccino and a typical Venetian Carnevele cake, fritelle.
If you want a complete Venice Carnevale experience, with many of the activities above, check out Carnival of Venicce package from ItalyVacations.com.