Published on Tuesday, February 11, 2014 by Kathy McCabe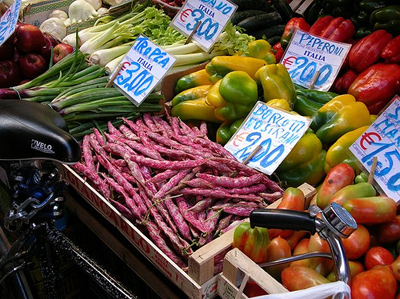 Italy is the land of luscious, colorful produce – giant, bright yellow lemons, eggplant that's the perfect shade of purple, peppers as shiny and red as they get. The flavorful bounty is usually lovingly and carefully displayed just so in outdoor markets and supermarkets.  All of the beautiful, deliciousness might make you tempted to…
But Don't Touch!  Non Toccare!
Touching fresh fruit or vegetables is a major faux pas in Italy. Yes, there are hygiene reasons, but more than anything it is just one of the social rules in Italy. Touch the fruit and you risk an earful or even a gentle slap from the shopkeeper. You might not get the full force of a tell-off if you're wearing gloves, but don't change it.  Italians assume everything a vendor sells is perfect and flavorful, and rifling through the whole fruit stand can be considered rude or as if you don't trust their merchandise.
Before buying, locals will tell vendors when they'd like to eat the produce, which allows the vendor to select pieces that are appropriately ripe. Don't worry if your Italian isn't strong enough to communicate this, though – if you'd like to eat the fruit immediately, say "Da mangiare oggi, per favore" ("To eat today, please") and you'll receive perfectly ripe fruit. To communicate how many or how much of something you'd like, use numbers or the metric system (e.g., "Due zucchine" or "Un mezzo kilo") or point to the items and hold up fingers. If the vendor hands you an empty bag and indicates you may select your own produce, only touch the pieces you want.
If you're at a supermarket, pick up a plastic glove from the provided box and select your own produce (but don't test every piece – again, only pick up the ones you buy). After putting it in a plastic produce bag, weigh the bag on a small scale, which will print out a sticker that you affix to the bag.
Ready to travel to Italy? Perillo Tours has been leading group trips throughout Italy since 1945 and ItalyVacations.com can custom design an independent itinerary for your dream Italy vacation!
Taking your first trip to Italy soon? Learn everything you need to know when you get your FREE copy of The First Timer's Guide to Italy by ItalyTravel.com contributor Kathy McCabe