Published on Monday, March 24, 2014 by Kathy McCabe
Romans take their food shopping seriously. Gathering staples and ingredients for the coming days is more of a time-honored ritual than a series of errands. Two thirty-something Rome women wanted to capture this experience for visitors to the city and the Rome Gourmet Walking Tour was born.
On a sunny Saturday morning, our guide,  Gaetano, an affable and erudite retired executive for Sony, meets us in the front of the Spanish Embassy in Piazza di Spagna. "The idea is to take you on a shopping trip that a typical Roman would take. Are you ready?"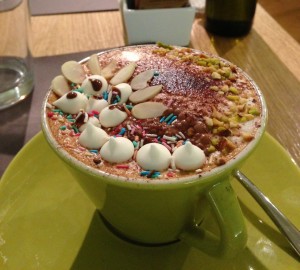 In Roman fashion, we power up for the journey with espresso and colorfully decorated cappuccino just about 50 feet away at Illy Café/Molto Italiano (Via Due Macelli, 59D). Given Gaetano's business background, I ask him about Italy and the effects of the continuing economic crisis. "We have always been on the brink of disaster but Rome has lasted for thousands of years," he says wistfully.
Our tour may not be exactly typical as this is one of the most exclusive areas of the Eternal City, but it is home to many Roman gourmet institutions. One of these is our next stop, Ciampini,  the café and gelateria in Piazza San Lorenzo in Lucina.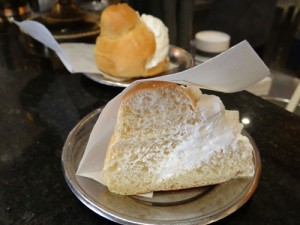 While tourists and Roman alike come here for some of the city's best gelato, we're with a Roman-in-the-know who introduces us to maritozzo. This sweet roll, made from eggs and yeast, is a specialty of the region of Lazio, where it was once the only dessert allowed during lent. Gaetano advises us to try it "con la panna," topping it with the not-too-sweet handmade whipped cream.
Although Romans are devoted to their own culinary traditions, they also enjoy the culinary treasures of other Italian regions. Gaetano takes us to La Peonia (Via Della Carrozze, 85) to taste some delectable foods from the island of Sardinia.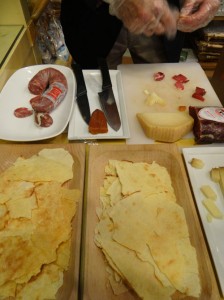 The proprietor has put out a spread for us: Guttiau – traditional, parchment-like Sardinian flat bread; Fuore Sardo – sheep's milk cheese, smoked in a cave; Salami Campidano and Salami Mustella (perhaps the best dried meat from the island). But the crown jewel of our Sardinia tasting is the tuna bottarga produced by Giampaolo Del Nero – it is so prized that the emperor of Japan is a customer.
While our itinerary is heavy on shopping (with a few more stops not mentioned here) it is paced perfectly with opportunities to sit, eat and enjoy learning more about Rome with Gaetano. To enjoy the famous Frascati wine from Lazio and nibble on fresh antipasti, Gaetano takes us to Antica Enoteca (Via della Croce, 76).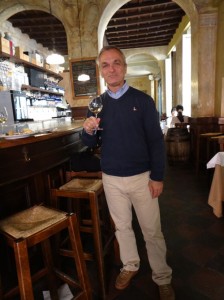 Italians can't resist stuffing their guests; it is truly a sign of affection. Not satisfied that we've eaten enough, Gaetano takes us to L'Archetto (Via dell'Archetto, 26a), a very popular (especially for students and theater goers) restaurant famous for its pasta. Gaetano orders us the classic Roman choices:  cacio e pepe (topped with sheep's cheese and pepper) and amitriciana (made with guanciale, tomato, olive oil and Pecorino).
It is all we do to roll ourselves along the narrow streets for our last stop at the newest outpost of Pompi (Via della Croce, 82) known as  known as "Il Regno Del Tiramisù"  or "the kingdom of Tiramisu." Gaetano swears this is the best tiramisu in all the land and waits in a line 10 deep to grab an individual, to-go box of pistachio tiramisu for us to sample outside. This sweet treasure is the perfect way to top off a half day exploring gourmet Rome.
Ready to travel to Italy? Perillo Tours has been leading group trips throughout Italy since 1945 and ItalyVacations.com can custom design an independent itinerary for your dream Italy vacation!
Taking your first trip to Italy soon? Learn everything you need to know when you get your FREE copy of The First Timer's Guide to Italy by ItalyTravel.com contributor Kathy McCabe