Published on Monday, March 17, 2014 by Kathy McCabe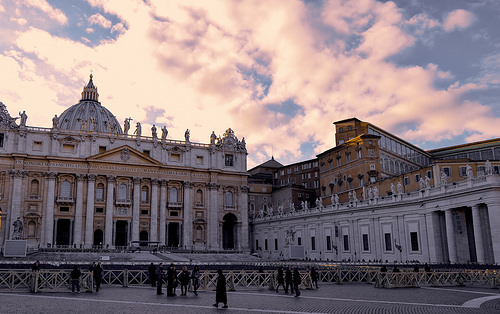 All eyes have been on the Vatican for a year now, with the election of Pope Francis and his incredible popularity resulting in "
the Pope Francis Effect
." The fervor only seems to be on the increase with the upcoming canonization of two former popes on April 27 at the Vatican.  In September 2013, Pope Francis announced that two of his predecessors –
Pope John Paul II
and
Pope John XXIII
–  will be canonized, the last step to sainthood. The canonization takes place only a week after Easter which will also bring numerous pilgrims to
Rome
and the Vatican.
Here's what to know if you're interested in attending the canonization (or watching it on television):
This is the first double canonization in the history of the Catholic Church.
Pope Benedict, who has rarely been seen during his retirement is expected to attend the canonization mass.
There are four stages in the canonization process: after death, the potential saint is deemed "a servant of God," after further investigation the home congregation asks the pope to declare the person "heroic in nature," the individual is blessed or beatified by the pope and finally, he or she is canonized as a saint.
Two miracles are usually required to be canonized.  Two miracles have been attributed to Pope John Paul II who was beatified in 2000 but Pope Francis has waived the requirement of a second miracle for Pope John XXIII.
Two million pilgrims are expected to flock to Rome for the event.
Rome hotels are nearly sold out for the days surrounding the canonization. The Italian news agency ANSA reports that out of 3,000 hotels in Rome. only 500 have any rooms left.
There will be no tickets for the canonization. Pilgrims will be able to get close the action on a first come, first served basis. So this could mean waiting in line for hours, or even 24 hours to get space in St. Peter's Square.
Large screen TVs will be set up for those who are further back.
Ready to travel to Italy? Perillo Tours has been leading group trips throughout Italy since 1945 and ItalyVacations.com can custom design an independent itinerary for your dream Italy vacation!
Taking your first trip to Italy soon? Learn everything you need to know when you get your FREE copy of The First Timer's Guide to Italy by ItalyTravel.com contributor Kathy McCabe
Photo by Luca Serazzi, flickr.com