Published on Thursday, April 24, 2014 by Kathy McCabe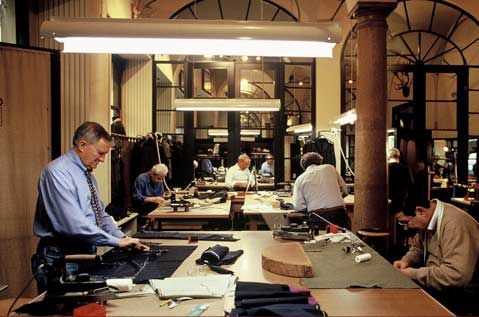 Naples
has long been famous for its tailors. Italians and foreigners alike have flocked to this southern Italian city for handmade suits.
The New York Times
is reporting that Neapolitan tailoring is hotter than ever.
"And the Neapolitan tailors seem to be more successful than the chaotic city itself in moving further into the 21st century. Like the waters of the bay that rise and fall along the coastline, they have had good years and bad. But, today, the bespoke suit is back and doing well, even against the challenge of factory-made ready to wear," fashion critic Suzy Menkes reports.
Menkes profiles
Rubinacci
with its classic studio in the historic
Palazzo Cellamare
on
Via Chiaia
. The younger members of the family promote the name abroad with a store in London and meetings with clients all over the world.  More than 20 of his 35 tailors are younger than 40, proving that this not one of Italy's dying industries.
Another tailor of note, Kiton founded in 1956, is located in the industrial neighborhood of Arzano. You may have already heard of Kiton because it has 45 retail stores across the world.  Menkes reports, "Kiton trains its own new generations in a school adjacent to the factory. Each year its 12 students either join the company or find jobs elsewhere. Mr. De Matteis said that the goal is to have a young, newly trained tailor in every Kiton store across the world."
Ready to travel to Italy? Perillo Tours has been leading group trips throughout Italy since 1945 and ItalyVacations.com can custom design an independent itinerary for your dream Italy vacation!
Taking your first trip to Italy soon? Learn everything you need to know when you get your FREE copy of The First Timer's Guide to Italy by ItalyTravel.com contributor Kathy McCabe