Published on Friday, May 2, 2014 by Kathy McCabe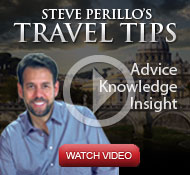 I'm Steve Perillo of Perillo Tours. I have a video series called Steve's Travel Tips to share all the insider Italy travel tips I have learned over a lifetime of travel to Italy.
Did you know that Italy has more UNESCO World Heritage Sites than any other country? UNESCO stands for the "United Nations Educational, Scientific and Cultural Organization." This organization catalogues, names, and conserves sites of outstanding cultural or natural importance to the common heritage of humanity. These are deemed "World Heritage Sites," and Italy has 49 so far.
Click here or below to watch my video and learn which Italian treasures are on the list!