Published on Friday, July 18, 2014 by Kathy McCabe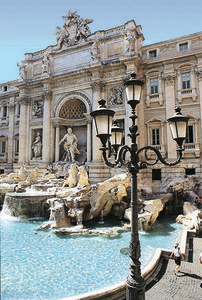 A country in never-ending economic trouble. Crumbling national treasures and monuments. What's the answer? For the Italian government, it has come in the form of private companies willing to foot the bill to save the country's national heritage.  Rome is a great example of this. The Colosseum is being renovated through funds from Tod's, Bulgari is sprucing up the Spanish Steps and Fendi is refurbishing the Trevi Fountain.
"Our doors are wide open for all the philanthropists and donors who want to tie their name to an Italian monument," Italy's culture minister, Dario Franceschini told The New York Times. "We have a long list, as our heritage offers endless options, from small countryside churches to the Colosseum.
"Just pick."
But as The New York Times article explores, what's the price of such public-private partnerships, which are fairly new in Italy. Critics complain that companies are exploiting these historic treasures, citing examples such as the recent Rolling Stones concert at Circus Maximus and another instance where Morgan Stanley rented out a 14th century chapel for a dinner.
But if these rentals and partnerships ultimately bring in the money needed to save Italy's treasures, is there real harm or is this just a resistance to doing things in a new way?
Despite the critics, these deals are unlikely to go away as the money and restoration work is sorely needed.
According to the Times, Rome's mayor told diplomats from the U.S., Britain and other countries, "we simply can't manage by ourselves,"  and distributed a list of Roman monuments in need of restoration and appealed for expertise and money from abroad — as much as $270 million.
"I don't think this is a responsibility that belongs to Rome or Romans only — it belongs to mankind," the mayor said. "Large parts of Western civilization started here."