Published on Thursday, September 4, 2014 by Steve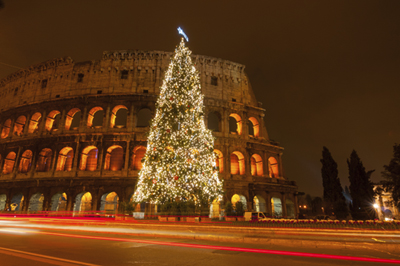 A Very Special Invitation to Spend Christmas in Italy… And Not Just for the $1000 Savings Per Couple
Thanks to our faithful clients and travel agents, this has been a banner year to Italy! That's why our hotel partners in Venice, Florence and Rome are asking, "What about this coming Christmas 2014? Why isn't our Marco Polo Tour on December 18 to 27 sold out by now"?
So we got together with our partners to prove to you that Christmas in Italy can be one of the most unforgettable travel experiences of yourlifetime. The lights, the shops, the joy, the celebrations in the streets –just a few good reasons to travel with your family this holiday season.
Another good reason? Our hotel partners, along with your friends at Perillo have a fantastic gift for you:
Enjoy a $1,000 per couple price reduction on this one special tour date! ($500 reduction for single travelers.)
You'll start in dazzling Venice, ablaze with lights and holiday festivities.Florence has two outdoor Christmas markets, elegantly decorated storefrontsand holiday sweets in the bakeries. You'll be in Rome from Christmas Eve to St. Stephen's feast day on the 26th. The Vatican's lifesize Nativity, Christmas Mass and the Pope's blessing will make this one of the most memorable holidays of your life!
Wouldn't this trip make an exceptional holiday gift? Or bring the kids, and the grandkids for that matter!
This is an rare offer that will sell-out quickly. Call Perillo Tours at 1-800-431-1515 or your professional travel agent to make this holiday season one that you and your family will remember for a lifetime!