Published on Monday, September 1, 2014 by Kathy McCabe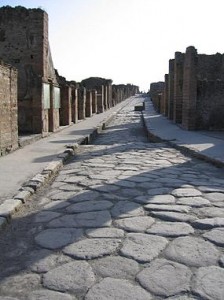 Pompeii
– one of the world's greatest archaeological treasures – just got that much better with 10 newly renovated buildings, some of which have never before been seen by the public. The newly unveiled houses and late opening hours helped attract numerous visitors according to Italian news agency,
ANSA
.
Here are some of the newly renovated buildings visitors can now see:
Ancient Hunting Lodge (Casa della Caccia Antica) – This building was just redone in 79AD before the volcano erupted. The thing to see, of course, is the fabulous hunting scene.
House of Apollo (Casa di Apollo) – The exquisite decorations pay home to the God, Apollo
Thermopolium of Vetutius Placidus – This is a restaurant that also had a to-go service (who knew that wasn't a new idea) boasting shrines to Mercury and Dionysus (the gods of commerce and wine).
Domus Cornelia – See the sculptures inside.
Ready to travel to Italy? Perillo Tours has been leading group trips throughout Italy since 1945 and ItalyVacations.com can custom design an independent itinerary for your dream Italy vacation! T
Taking your first trip to Italy soon? Learn everything you need to know when you get your FREE copy of The First Timer's Guide to Italy by ItalyTravel.com contributor Kathy McCabe