Published on Friday, October 10, 2014 by Kathy McCabe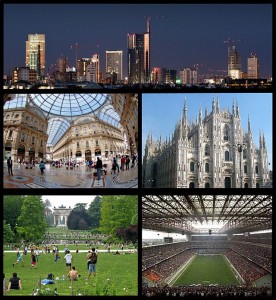 You're a seasoned Italophile–but you've never been to Milan. You think the northern metropolis offers little besides gray stone, industrial parks and rainy days. Wrong! This keystone city may not have the immediate charms of Rome or Florence, but its quieter attractions mean that you can take your time and soak up the rhythms of everyday Italian life. Plus you will be hearing much more about Milan at the host of Expo Milano 2015. Here are five things worth it in themselves that will also introduce you to the real Milano:
1. See The Last Supper. It may be the world's most famous painting–and it's not found in a museum, but a church. Leonardo da Vinci's masterwork can be seen in Santa Maria della Grazie in all its glory, but you must reserve a 15-minute time slot to see the fresco.
2. Savor a panzerotto. Imagine a round of savory dough, stuffed with tomato and mozzarella, then deep fried. Hungry yet? You'll have plenty of time to work up an appetite for Panzerotti Luini's deservedly famous creations, as the line is always long.
3. Stroll the Galleria. The Galleria Vittorio Emmanuelle, built in 1867, is still one of the best and busiest shopping malls in the world. Consider this: Prada has been open there since 1913! It deserves a visit–and you probably deserve a coffee and cake break nearby.
4. Survey the city. If nothing else in Milan impresses you, a trip to the city's Duomo will. The third-largest church in the world has plenty of architectural marvels to observe, but it's the view from the top that dazzles. On a clear day, you can even see the Alps.
5. Sip and nibble. Your travel buddies natter on about tapas; tell them that the Italians have bested everyone in terms of happy-hour food and drink. An aperitivo crawl of Milan will help you discover new libations (Crodino, Cynar) and dishes (often called salatini).  Another great experience – wine and appetizers along Milan's canals!
Ready to travel to Italy? Perillo Tours has been leading group trips throughout Italy since 1945 and ItalyVacations.com can custom design an independent itinerary for your dream Italy vacation!
Taking your first trip to Italy soon? Learn everything you need to know when you get your FREE copy of The First Timer's Guide to Italy by ItalyTravel.com contributor Kathy McCabe