Published on Friday, October 24, 2014 by Kathy McCabe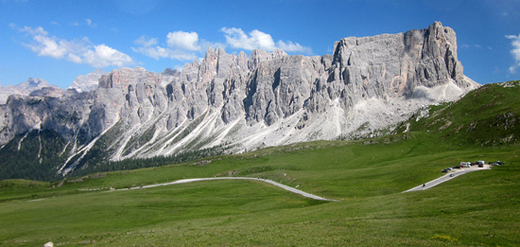 These beautiful mountains are one of the gems of Northern Italy. Here are five facts you might not have not about this corner of Italy:
1. The Dolomites were designated as an UNESCO World Heritage Site in 2009. The mountain range in northern Italy received this designation for its sublime beauty and historical significance, as the area contains Mesozoic fossils and limestone formations. The range has 18 peaks rising above 3,000 meters (9,842 feet). Sharp pinnacles, narrow ravines, crags, and sheer cliffs meet blue lakes and green valleys for breathtaking views.
2. The Dolomites are an outdoor haven all year long. Outdoor adventurers are busy hiking, climbing, and mountain biking in the summer, but come winter, the mountains' slopes are populated with avid skiers and snowboarders. Adrenaline junkies come for the base jumping, paragliding, and other adventure sports. The highest peak in the mountain range is 3,343 meters (10,967 feet) high. The region attracts all kinds of visitors, from people looking to get away from the city to serious outdoorsmen.
3. Weather in this mountain range is fairly reliable. Unlike elsewhere in the Alps (Switzerland, Austria, and France), where weather is unpredictable and can change by the minute, weather forecasts in the Dolomites are fairly accurate over the two- or three-day prediction period. Perfect for planning your outdoor adventures.
4. Residents in the Dolomites have their own distinct culture. German and Italian are common languages spoken in the Dolomites, but the region has its own language, called Ladino after the Ladin people, who have lived there since the Bronze Age. Today, about 30,000 people speak Ladino as their first language. Culture in the Dolomites also places a heavy emphasis on handicrafts (such as woodcarving and leatherwork), food and wine unique to the region, music and an appreciation for and conservation of nature.
5. Luxury and simplicity coincide in the Dolomites. The Dolomites attract luxury and celebrity – Roger Moore's James Bond whizzed down the ski slopes in the 1981 film For Your Eyes Only – but this grandeur and clientele doesn't overwhelm the region. Travelers looking for posh ski resorts will be right at home, as will those seeking rugged adventures.