Published on Wednesday, October 29, 2014 by Kathy McCabe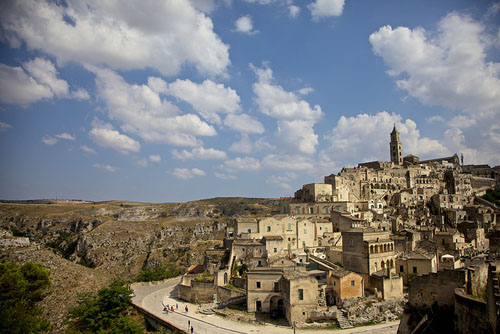 After a fierce competition, Matera in the southern Italian region of Basilicata has been named as European Capital of Culture for 2019. The small town expects more than 5 million visitors in 2019, and plans to complete public works projects and city improvements to host the event. A town of 60,000 people, Matera is little-visited by travelers and is best known as the "Subterranean City" for its sassi, ancient cavernous houses dug into the rock, which are listed as an UNESCO World Heritage Site. Matera will host cultural events to celebrate Italian and European culture.
"Matera is a gem, which is finally recognized in the eyes of the world," according to Federconsumatori. "We must do everything to get ourselves prepared for 2019: it is an opportunity not to be missed.  It will bring new developments to the area, both cultural and economic, which may offer important touristic features."
Each year since 1985, the European Capitals of Culture title is awarded cities across the continent. Currently, two cities share the title for one year (in 2014, it is Riga, Latvia, and Umea, Sweden), but by 2019, the designation may be extended to three cities per year. The Southern Italian city beat five other Italian cities – Cagliari, Lecce, Perugia, Ravenna and Siena – and will share the designation with Plovdiv, Bulgaria in 2019. Matera was chosen by a panel of experts, who recommended the city.
"I am confident that Matera will attract more visitors from Europe and all over the world to discover the city, its history and the cultural diversity which is one of strengths of our continent," European Culture Commissioner Androulla Vassiliou told Italy Magazine. "I am convinced that the title will bring Matera and its surrounding area significant long-term cultural, economic and social benefits, as we have seen with previous European Capitals of Culture."
Ready to travel to Italy? Perillo Tours has been leading group trips throughout Italy since 1945 and ItalyVacations.com can custom design an independent itinerary for your dream Italy vacation!
Taking your first trip to Italy soon? Learn everything you need to know when you get your FREE copy of The First Timer's Guide to Italy by ItalyTravel.com contributor Kathy McCabe