Published on Tuesday, October 21, 2014 by Steve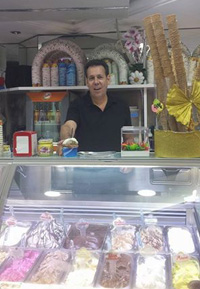 It is no secret that my favorite city in the world is bella Roma – the Eternal City! You would think, given how often I visit that I would get a little tired of it but quite the contrary, I find there's always something new to see and do…and well, FUN to be had!
FUN was the name of the game for my latest trip, especially since I was there for my birthday! We mixed in the silly and the serious. I stayed at my favorite Rome hotel, the Rose Garden Palace – right off the iconic Via Veneto. It feels like my Roman home away from home and I know the guests of Perillo Tours feel the same way. You can't find a better location in Rome and our staff takes care of everything.
Much like a little kid, for my birthday, I wanted to play the person I want to be when I grow up. So the kind folks behind the counter at my favorite gelateria let me play scooper behind the counter. I couldn't help but sneaking some scoops of my favorite flavor – fragola (strawberry).
That night, I was put to work…again! We headed to dinner at Meo Patacca in Trastevere, a wonderful restaurant where we take our groups. Not only is the food the best, the staff puts on a show! But you would think they would have enough help in the kitchen?! Nope, time for Steve to work. I served up pasta with a delicious vegetable cream sauce and a typical Roman entree – trippa (tripe)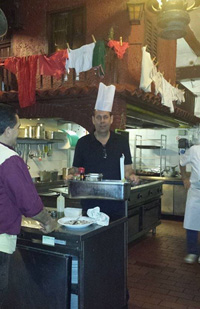 Sure the silliness was a hoot, but the highlight of my trip was a little more serious…a very exclusive tour inside the Vatican. We saw the Sistine Chapel and the Niccolini Chapel – which is rarely open to the public. The Niccolini Chapel was used at the Pope's Chapel before the Sistine Chapel existed! We also strolled through the Vatican Gardens which are under renovation. I am proud to have donated to the project.
One of the weirder experiences of my trip was a tour of the Capuchin Crypt – right on the Via Veneto. The crypt is decorated with the bones of Capuchin monks. I've visited before and am always moved by how eery and beautiful it is. "What you are now we used to be; what we are now you will be…" is one of the quotes there.
Life is short. Have FUN – at home – and in Italy!