Published on Saturday, November 15, 2014 by Kathy McCabe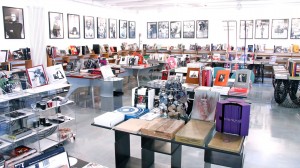 Excellent design features in every aspect of Italian life, from furniture to automobiles to eyeglass frames to grocery packaging. Of course bookstores in our favorite country are well designed—and often also extremely beautiful. This list is of the most visually arresting stores. They aren't necessarily the ones in which you'll find titles in English (but isn't that why you packed your e-reader?)
Corso Como Bookshop, Milan: The Corso Como is Milan's most fashionable street—and that means it's the one of the world's most fashionable, too. No wonder this boutique-bookstore-café now has outposts in Seoul, Beijing, and Shanghai. The visually arresting bookshop has gorgeous tomes of photography, design, and fashion that you won't need any Italian to appreciate. (pictured)
Libreria Alta Acqua, Venice: Where else in the world might you visit a bookshop housed in a gondola? Owner Luigi Frizzo makes the most of his waterbound theme by stowing books in every kind of vessel he can cram into the space, and he even constructs bits of furniture from discarded volumes. Close to St. Mark's Square, this whimsical spot is a must for every book lover who visits Venice—maybe a more-than-once must, too.
The Bookabar Bookshop, Rome:  Sometimes listed as Barabook, this gorgeous store is part of Palazzo della Esposizioni, "the largest interdisciplinary exhibition area in central Rome." Creamy white shelves run the length of the rectangular space and contain all manner of art books in several languages. If you get tired of perusing pages, you can visit a great museum shop or take a break in a stylish coffee bar.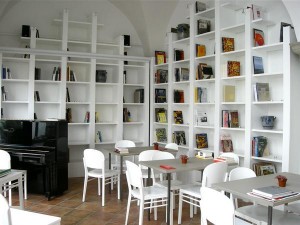 Libreria di Brac, Florence:  One of the best parts of Florence's artsy Brac bookshop is its trendy (and excellent) dining area, where you can eat surrounded by shelves of the latest reads. It's a restaurant. It's a café. It's a bar. It's a bookstore. It's a third place—it even offers free wifi, a couple of computers, and various other distractions for those who choose to wile away an hour or three before making more museum rounds. (pictured)
La Feltrinelli, Bologna: You might be surprised to find a chain bookstore outpost on this list—remember, it's Italy we're talking about here. The Feltrinelli company may have stores all over the country, but its Bologna shop has a very strong selection, perhaps because of the city's academic and cultural vibe. Can't read a word of Italian? Stroll through the cookbook and photography sections and come to your senses.
Libri da Bottega, Turin: We've saved the best for last. This tiny, eccentric shop in Turin calls itself "a refuge for everyone," and its owners are all about the handsel: They only stock one copy of each book, and most titles in the store are there because fellow readers recommended them. They keep a book exchange shelf near the door, and hold regular book discussion evenings for their extremely loyal clientele. It's a treasure of a place and well worth a stop.
By Kathy McCabe
Ready to travel to Italy? Perillo Tours has been leading group trips throughout Italy since 1945 and ItalyVacations.com can custom design an independent itinerary for your dream Italy vacation!
Taking your first trip to Italy soon? Learn everything you need to know when you get your FREE copy of The First Timer's Guide to Italy by ItalyTravel.com contributor Kathy McCabe