Published on Sunday, November 9, 2014 by Kathy McCabe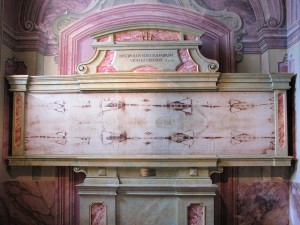 The Shroud of Turin will go on display for the first time in five years in the spring of 2015, in coordination with a visit by Pope Francis. The sacred cloth, said to have wrapped Jesus Christ in his tomb, is stored in the Turin Cathedral in a climate-controlled case and will be on display at the cathedral from April 19 to June 24, 2015, with Pope Francis' visit scheduled for June 21.
While recent popes, including Pope Francis and Pope Benedict XVI, have not issued their opinions on whether the item is the authentic burial shroud of Jesus, they have called it an "icon" and have visited the shroud on display. Many devout Catholics believe that the image of a crucified man was imprinted on the cloth when Jesus was resurrected, but skeptics believe the image was forged in medieval times.
"The pope comes as a pilgrim of faith and of love," said Archbishop Cesare Nosiglia of Turin, the shroud's papal custodian, at a Vatican press conference, and reported by Catholic website CruxNow.com.
"Like his predecessors did, Pope Francis confirms the devotion to the shroud that millions of pilgrims recognize as a sign of the mystery of the passion and death of the Lord," said Nosiglia.
Visitors must make reservations, free of charge, to view the shroud at www.sindone.org
By Kathy McCabe
Ready to travel to Italy? Perillo Tours has been leading group trips throughout Italy since 1945 and ItalyVacations.com can custom design an independent itinerary for your dream Italy vacation!
Taking your first trip to Italy soon? Learn everything you need to know when you get your FREE copy of The First Timer's Guide to Italy by ItalyTravel.com contributor Kathy McCabe
Photo by kd85, flickr.com