Published on Friday, November 7, 2014 by Steve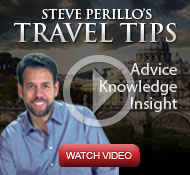 I'm Steve Perillo of Perillo Tours. I have a video series called Steve's Travel Tips to share all the insider Italy travel tips I have learned over a lifetime of travel to Italy.
This week I'm talking about enjoying the olive harvest in Italy. Italians look forward to the fall for any number of reasons, the grape harvest, the best truffles are in season. But a big reason to welcome the fall is the olive harvest and shortly thereafter the arrival of olio novello or "new" oil.