Published on Tuesday, November 11, 2014 by Kathy McCabe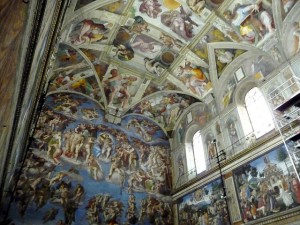 Twenty years ago, the frescoes of the Vatican's renowned Sistine Chapel received a major 16-year restoration, making Michelangelo's masterful paintings vivid once more. After all, the Sistine Chapel is visited by 20,000 people each and every day; some wear and tear is to be expected.
Both visitors and artwork will benefit from the latest upgrades installed by the Vatican Museums, which include completely new lighting and air-conditioning systems. According to Reuters, Antonio Paolucci, director of the museums, says that these refurbishments will dramatically reduce dust, humidity, and heat in the chapel, while increasing proper air circulation. "We are going to protect, from a climatological point of view, Michelangelo's greatest masterpiece, as well as giving it proper lighting," he said in an opinion piece for L'Osservatore Romano.
Michelangelo's Sistine Chapel frescoes, inaugurated in October 1512 by Pope Julius II, include one the iconic scene of God's hand giving life to Adam, as well as the "Last Judgment" painting, completed decades later. These works of art are, of course, priceless—so it's not surprising that the Vatican declined to state the price of the new systems.
Donors (including the Porsche motor company) are bearing the costs. The air system, made by the USA's Carrier Systems, is undetectable, as it makes use of existing ducts; the pumps are located outside of the chapel itself. The lighting system, via Germany's Osram, uses LED lamps that use less energy and generate less heat than the previous models.
The result is a Sistine Chapel that can be seen in a new—yes, light—but seriously, with a new perspective. Although the famous artist's work will always be a big draw, Vatican officials wanted to allow the spiritual message of the building to shine through, as well.
Find out more about Sistine Chapel tours and tours of the Vatican Museums.
By Kathy McCabe
Ready to travel to Italy? Perillo Tours has been leading group trips throughout Italy since 1945 and ItalyVacations.com can custom design an independent itinerary for your dream Italy vacation!
Taking your first trip to Italy soon? Learn everything you need to know when you get your FREE copy of The First Timer's Guide to Italy by ItalyTravel.com contributor Kathy McCabe