Published on Saturday, December 27, 2014 by Kathy McCabe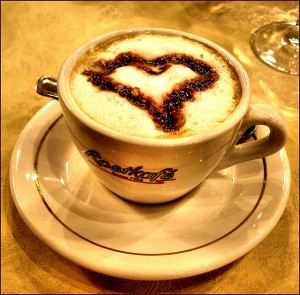 The goal of the Italy Travel Blog is to give you lots of great ideas on what to do in Italy but every so often, it is helpful to give you some ideas on what not to do in Italy:
1.  Ask for parmesan cheese on your seafood. Or a cappuccino after lunch. Of course, if you insist on a sprinkle of formaggio, or make a plea for butter with your bread, a good Italian waiter will probably indulge you—but other diners may look askance. Know about Italian food ways before you go so that it can be your decision to get a side eye. For example, while a creamy cappuccino is perfectly acceptable for breakfast (with a bit of pastry, per favore!), no self-respecting adult will be seen drinking one after 10 a.m. and never, ever with a meal—wine and water only (beer is OK with pizza).
2. Wear scanty clothing to the Vatican—or any other religious location. You probably know that Italy is a deeply Roman Catholic country—after all, the Pope lives there! But you may not realize, or remember, how much that means, especially when you're on the street in a modern city like Milan or Naples and see people in revealing garb all around you. Sure, a signorina will sport a halter when she's in the piazza quaffing a coffee, but if she plans to visit a church, a convent, or especially St. Peter's, she'll have a sweater or shawl at the ready to cover up. Remember, at the Vatican, you must have your knees and elbows covered in order to enter.
3. Insist on punctuality, from anyone, anywhere—including yourself. Time in Italy is generally a flexible concept: People linger in cafes, amble down streets, and enjoy life's small pleasures—which means they sometimes take longer than we New World citizens would like in serving us, showing up for appointments, and completing things. First, acknowledge the difference, and be patient. Second, build extra time in to your itineraries so that you won't feel anxious when a tour goes overtime or a meal takes extra time. Finally, don't try to do and see everything, because not only will you fail (more anxiety!), you need a reason to return!
4. Park between yellow lines, or drive in the ZTL. Did you read #3? Driving, traffic, and roads are like everything else in Italy—unpredictable. Sure, you can rent a car and drive, and you may love it, zipping around hairpin turns in a tiny coupe. However, there are things to understand about Italian driving and parking. Never, ever try to drive in a city's "ZTL" district; that means "Traffic Restricted" (Zona a Traffico Limitato), and vehicles are forbidden. So is parking between yellow lines; those are for disabled drivers and passengers.
5. Ignore pleasantries. At home you may avert your eyes when you pay for your croissant and grunt greetings at colleagues, but such grumpiness will not do in the land of dolce far niente, where people take time to greet, thank and pardon each other. No one expects you to speak fluent Italian, so why not learn a few phrases like "Buon giorno," "Prego" and "Grazie" to use in your excursions? Doing so will make you seem pleasant and willing to participate in the local culture.
By Kathy McCabe
Ready to travel to Italy? Perillo Tours has been leading group trips throughout Italy since 1945 and ItalyVacations.com can custom design an independent itinerary for your dream Italy vacation!
Taking your first trip to Italy soon? Learn everything you need to know when you get your FREE copy of The First Timer's Guide to Italy by ItalyTravel.com contributor Kathy McCabe
Photo by Alan L, flickr.com