Published on Friday, January 2, 2015 by Kathy McCabe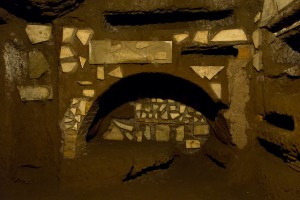 Perhaps you've visited Rome more than once—even a dozen times. You've run up the Spanish Steps, marveled at the Vatican's treasures, and climbed Palatine Hill. But, as journalist Amanda Ruggeri  explains in this article , you've just scratched the surface. Underground Rome is your next adventure: "Anywhere you go in Rome, you are walking on a buried, ancient world. Beneath your feet lie the remnants of the city that ruled an empire: temples and streets, villas and churches, monuments and tombs," writes Ruggeri.
She also notes that while many places in the world have different layers due to time and geography, Rome's foundations are unique because of its history. The Roman Empire's vast power and resources were not disturbed by much new construction until well into the 17th and 18th centuries, meaning that some of the oldest structures remain intact.
Until recently, some of these places couldn't be visited, and others simply hadn't been found; contemporary urban planning and building continues to uncover new sites. Fortunately, city authorities have recognized the worth of Rome's subterranean places and opened many of them to the public. Tourists should keep in mind that underground sights are, well, underground: Although they've been largely prepped for tours, people with health concerns should ask in advance about air quality, exits, and amenities.
What can you expect? How about the flip side of Rome's iconic Piazza Navona, which lies on top of Emperor Domitian's Stadium? You can visit a wealthy Roman family's villa just beneath Forum. There's even an underground Coliseum, where you can see the carefully designed waiting rooms for the gladiators. Near the Trevi Fountain, you might want to see the Vicus Caprarius, a city family's "apartment" from Empire times, and at San Lorenzo in Lucina, you'll see both an underground medieval workshop space and an older Roman living space.
ItalyVacations.com offers a  half-day Crypts & Catacombs Tour to help you explore Rome's underside. This tour provides an exclusive viewing of The Cappuccini Crypt (chapel decorated entirely by human bones), Domitilla or San Callisto Catacombs (ancient Christian burial ground) and the Church of San Clemente (built over an ancient fourth century church built over an even older Roman house containing Christian artifacts and a pagan temple with ruins reaching 57 feet deep).
By Kathy McCabe
Ready to travel to Italy? Perillo Tours has been leading group trips throughout Italy since 1945 and ItalyVacations.com can custom design an independent itinerary for your dream Italy vacation!
Taking your first trip to Italy soon? Learn everything you need to know when you get your FREE copy of The First Timer's Guide to Italy by ItalyTravel.com contributor Kathy McCabe
Photo of Catacombs by Steve Collis, flickr.com