Published on Monday, January 5, 2015 by Kathy McCabe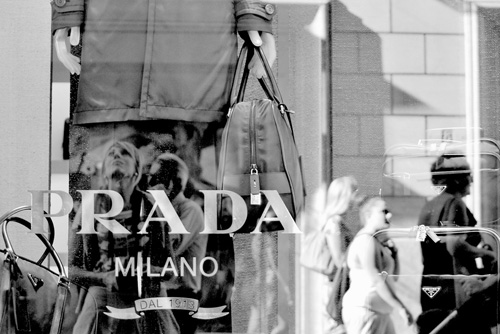 If you're already in Italy reading this, lucky you: Lace up your comfiest shoes and head out to the nearest commercial district, where the January sales are in full swing (they began last Friday in Campania and Basilicata, and on Saturday in most other regions). If you're not in Italy—yet—consider taking the next direct flight to Rome or Milan so you can benefit from the wintry mix of bargains.
Savvy shoppers may notice that this year's "Saldi" (sales) have started a bit earlier than usual; usually the markdowns begin after Epiphany on January 7th. As ANSA reports, Italy's retail sector has not recovered from the 2008 recession, and many shopkeepers are hoping that a slightly longer winter bargain season will help make up for the soft holiday margins around the country.
In Rome, you'll want to hit Via del Corso, Via dei Condotti and Via del Babuino, as well as Galleria Alberto Sordi. Give the big shopping centers a pass, as the chaos isn't worth the mundane things you'll find; discounts are higher and "finds" are better on the more elegant streets.
Milan's Via Montenapoleone and Via della Spiga are must-visits, as is the Galleria Vittoria Emmanuele; this internationally known fashion city is the place to do your most serious wardrobe updating. For shoes and handbags and much more, Florence's leather emporia can't be beat: Try the craft shops themselves in Santa Croce and San Lorenzo, although you'll also find some bargains on the Via de Tornabuoni and the Via della Vigna Nuova.
Those are just a very few ideas, of course. Other cities, from Naples to Bologna, have their own shopping charms—and no serious shopping tourist would want to skip the outlets! Here's why: Many of the higher-end designer boutiques offer their best items and prices to loyal customers in private sales—and send whatever is left over straight to their higher-end designer outlets (e.g., Valmontone in Rome, Fox Town Mendrisio in Milan, and Fifty Factory Store in Palermo).
Speaking of best prices, what you can expect at the beginning of the sales is up to a 30% discount. As the weeks go on (the sales are limited to about 60 days, although dates vary by region), the discounts may increase to 50%, but of course the selection is more limited by then. Also, remember that the January sales are not for the faint of heart. All sales are final, which is why you may find people of both sexes and all ages happily stripping down to undergarments in the aisles as they make sure that things fit well. It's worth it once you find the perfect La Perla camisole or Prada leather trousers.
By Kathy McCabe
Ready to travel to Italy? Perillo Tours has been leading group trips throughout Italy since 1945 and ItalyVacations.com can custom design an independent itinerary for your dream Italy vacation!
Taking your first trip to Italy soon? Learn everything you need to know when you get your FREE copy of The First Timer's Guide to Italy by ItalyTravel.com contributor Kathy McCabe
Photo by brunifia, flickr.com